What Can You Pay Attention to in November?
Yesterday, Grinding Gear Games provided additional details about ExileCon, the first convention dedicated to their award-winning RPG, Path of Exile. ExileCon is taking place in Auckland, New Zealand on Saturday, November 16 and Sunday, November 17, 2019 at the beautiful Aotea Centre and will feature huge announcements and hands-on previews for large expansions to Path of Exile including the 3.9.0 expansion (December 2019) and the highly-anticipated 4.0.0 mega-expansion (late 2020 launch estimate). The event culminates with the 2019 Path of Exile race finals and the spectacular ExileCon Closing Party.
Presentations, Panels and Special Guests
ExileCon festivities kick off with a one-hour pre-show livestream before the Keynote Presentation on Saturday at 9am (New Zealand time, which is 12pm Friday US Pacific time), when Grinding Gear Games founders Chris Wilson, Jonathan Rogers and Erik Olofsson will present a rundown of big announcements and additional details on upcoming Path of Exile projects starting at 10am (1pm Friday, US Pacific time).
Some of the additional panels and events include:
Specific deep dives into the Path of Exile December 2019 Expansion, and next year's 4.0.0
Procedural World Generation in Path of Exile
Evolving Path of Exile's Renderer
Creating Visual Effects in Path of Exile
The Path of Exile 2019 Race Finals featuring four players competing for a $10,000 grand prize.
Additionally, Grinding Gear Games is excited to announce that the founders of Blizzard North and creators of the Diablo series, David Brevik, Max Schaefer and Erich Schaefer will attend the event and will be appearing at a special session during the show open to all attendees.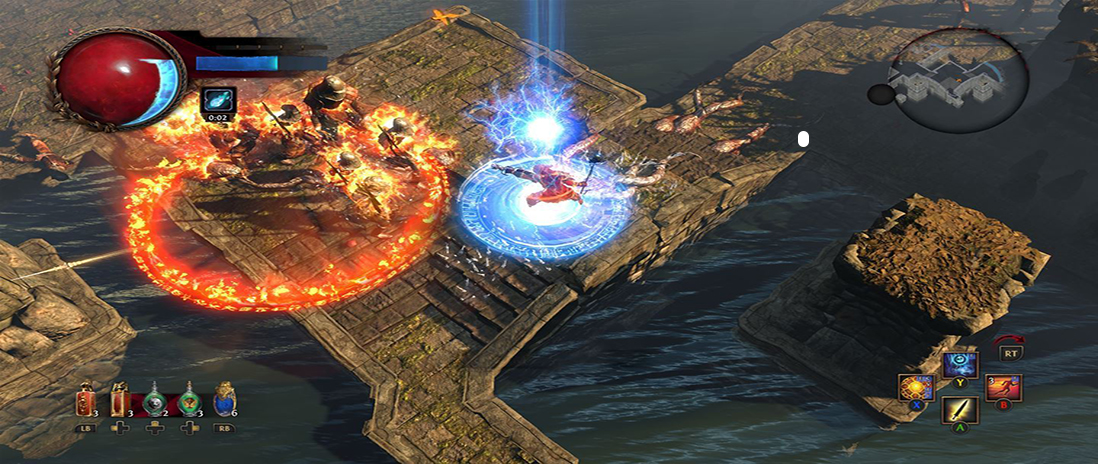 What Makes POE Popular Among Players Around the World?
POE has attracted millions of players throughout the world with the following features.
Persistent World - Towns and central hubs exist where players may meet other players for good old roleplaying. Instances are capped at 4-8 players per instance.
Free Download & Play - Completely 100% free to play, supported with microtransactions for aesthetic perks.
Randomly Generated Levels - Indoor and outdoor areas are randomly generated - no more having to replay through the same instance over and over!
PvP - Highly competitive PvP environments, including tournaments and world PvP areas.
Skills Galore - A wide variety of customizable skills are available. Better yet, skills are not limited to a specific class.
To go further in the game, players have tried their best to collect important game items, including POE Currency, Orbs, Maps and other Unique Items. The more items they have, the greater chance they will progress faster and have more fun playing harder maps and facing end-game bosses. As we all know, a trustworthy seller will help players get what they need fast and securely. If you do not know where to find the most suitable seller, it is highly recommended Mmobc.com to you. With over 7 years of experience in the gaming market, we offer POE Orbs, Maps, Weapons, Currency and other Items at competitive prices.
Why Choose Mmobc.com to Buy POE Currency & Items?
Prompt Delivery - Since we have professional service team, we guarantee that we will finish goods delivery in 15 minutes.
100% Handwork - We supply the game products with 100% handwork and no tricks or scams just a legit and secure shopping experience at our store.
Saving Money - 100% secure online payment system proved by a million users, you will receive your order at a great price!
24/7 Customer Service - We have a professional team providing an outstanding online customer service with friendly and fluent representatives via live chat.
Cheap POE Items and Currency for hot sale on our store with fast delivery, secure transaction and best service. If you have any problem to buy POE Items for PC and Xbox One here or place an order from us, please feel free to hit us up through our 24/7 online livechat. We will do our best to satisfy your demand and wish you a good shopping experience at our site.