NBA 2K21: The 5 Strongest All-Time Teams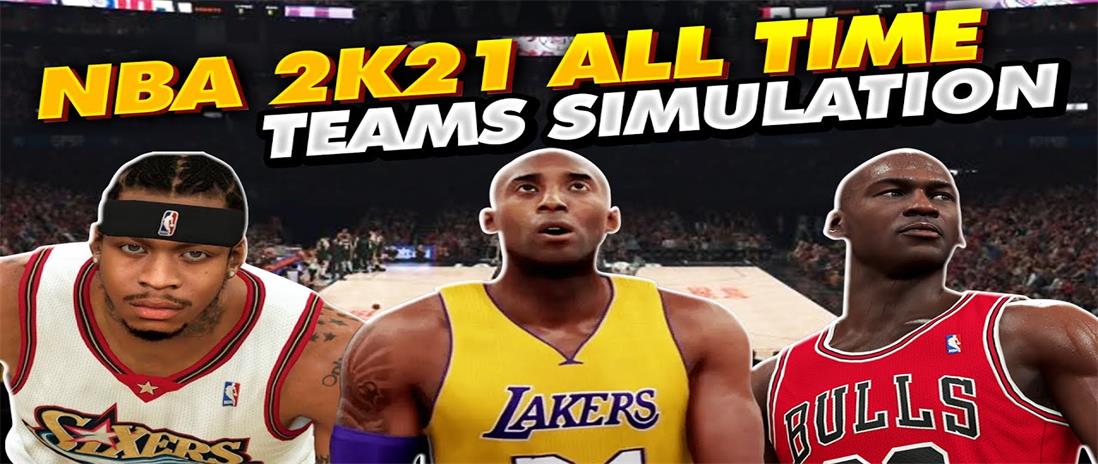 The fun tradition of including All-Time teams is continued by NBA 2K21, and here's a look at the strongest groupings of the bunch.
Since its launch in NBA 2K18, All-Time teams, whether online or offline, have become some of the most fun teams to use in Play Now. The feature was introduced to next-gen consoles by NBA 2K21, with slight updates to the bottom of their rosters.
Today we list the Top 5 Strongest ALL-TIME Teams, let's check it out.
NO 5. Chicago Bulls
Two words: Michael Jordan. Of course, there is more to it than that, but it definitely helps to have perhaps the greatest player of all time, especially when NBA 2K21 does him justice with an overall 99. With Jordan's sidekicks Scottie Pippen and Dennis Rodman holding the forward positions, youngest-ever MVP Derrick Rose at point guard, and underrated 93 overall Artis Gilmore in the center, the starting lineup is fantastic from top to bottom.
The bench is definitely not as explosive as the starting five, but there are some experts who can match and perfectly assist Jordan, Rose, or Pippen alongside them. There are countless choices for lineups tailored to various types of playing styles, whether it's scorers like BJ Armstrong, Toni Kukoc, or Bob Love, or defensive players like Joakim Noah, Jimmy Butler, or Charles Oakley.
NO 4. Houston Rockets
The sum of this team's offensive firepower is nuts. The starting five alone has offensive skills in multiple facets all over the boards. Harden, Drexler, and T-Mac are outstanding shooters and slashers, and the inside can be dominated by Olajuwon and Malone. The bench has a lot of all kinds as well.
Defensively, the squad will hold up as well. Chris Paul is one of the best defensive point guards ever, and while McGrady and Drexler are not known for it, there are no slouches on that end either. It helps to have giants like Yao and Sampson backing him up with all-time career shot-blocking champion Olajuwon, so even though there are some blind spots on the perimeter, opponents still have a skyscraper waiting inside for them.
NO 3. Golden State Warriors
When you've got some of the most dominant players you've ever had, and one of the greatest dynasties you've ever had, that will most likely be seen on the All-Time roster. Wilt Chamberlain and Stephen Curry, the Warriors' two greatest stars, had some of the craziest NBA seasons in history, and that reflects how overwhelmed they are in 2K, with Wilt being invincible inside, and Curry being automatic from three-point range, even off the dribble.
From 1975 Finals MVP Rick Barry to all three of Run T.M.C. in Tim Hardaway, Mitch Richmond, and Chris Mullin, to the We Believe catalysts Baron Davis and Jason Richardson, to the other members of the "death lineup" of the 2010s: Kevin Durant, Draymond Green, Klay Thompson, and Andre Iguodala, there's even more talent beside them. No definition can do justice to how good this squad is.
NO 2. Boston Celtics
For as long as the Celtics have, no team has been as consistently amazing, so it's only natural that their 2K21 All-Time team has quite a couple of legends. By being led by the winningest athlete in NBA history and potentially any sport, Bill Russell, alone, they have ample defensive presence. Offensively, with Larry Bird, Bob Cousy, and John Havlicek being both strong scorers and playmakers and Kevin McHale and Dave Cowens being inside threats, the C's can strike from anywhere.
In spite of the long history of the franchise, the younger players still get some shine on the All-Time roster. The key faces of one of the greatest super-teams of the modern NBA, Paul Pierce, Kevin Garnett, and Ray Allen, all play enormous roles in this squad, as does the group's facilitator, Rajon Rondo.
NO 1. Los Angeles Lakers
The Lakers are so packed, the clear-cut best of all the All-Time players, that they should have LeBron James, who is a Laker at the moment and still going high, come off the bench. That's because their starting five consists of players who dominated and invested their bonuses in Los Angeles. They have two of the greatest men of all time in the front courtyard: Shaquille O'Neal and Kareem Abdul-Jabbar, who spent their best years and won MVP trophies in LA. They have three guards outside the perimeter who dominate in their own way: Magic Johnson, Kobe Bryant, and Jerry West.
One might also create a worthy All-Time roster, starting with five of their bench players: LeBron James, Elgin Baylor, George Mikan, James Worthy, and Wilt Chamberlain. When the history of your franchise is chock-full of all-time greats from every era, it is a given that your All-Time 2K team is the greatest.

If you would like to inquire for more information on NBA 2K21, please visit our website-Mmobc.com. In addition to providing NBA 2K21 game information, Mmobc.com offers a knowledgeable NBA 2K21 MT trading website. Here you can buy anything you want, like NBA 2K21 MT, NBA 2K21 game pieces. We guarantee the price and absolute protection of your NBA 2K21 MT.