Check out the 2021/2022 New Year's Eve & Day event in Animal Crossing New Horizons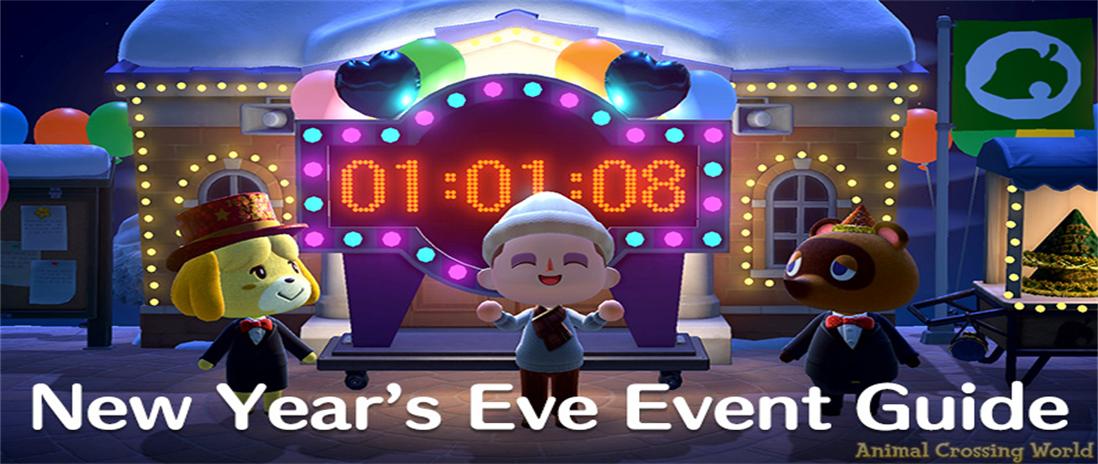 Fans of Animal Crossing New Horizons who began playing the game last year should be aware that the ACNH New Year's celebration is divided into two parts: the first is the New Year's Eve countdown, and the second is the New Year's Day celebration, which takes place the next day. What can we expect from Nintendo this year in terms of new items and promotional offers? Here's the ACNH New Year's Eve & Day 2021/2022 guide, which includes information on the release date, new items, food, furniture, and gifts.
What time is ACNH New Year's Eve Countdown 2021
Every year on December 31, the New Year's Eve Countdown kicks off with a board that displays the hours counting down to the New Year. For the entire New Year's Eve vacation, Resident Services will be closed. The holiday decorations are put up inside the building starting at 5 a.m. Outside by the countdown board, Tom Nook and Isabelle are standing.
Beginning at 11 p.m., the last hour of the year, villagers will gather in the plaza while music plays, and people will wave their light sticks and dance in the last ten seconds, as well as countdown with the clock changing to the new year, a scrolling "Happy New Year!" message will be displayed.
What time is ACNH New Year's Day 2022
New Year's Day, which falls on the first day of January, is another component of the great celebration. On this day, Isabelle will make a daily announcement wishing the locals a happy new year, and the Nook Stop will reward the player with 500 Nook Miles to celebrate the new year.
When the clock strikes midnight on January 1, ACNH fireworks will begin shooting into the sky until 2 a.m., spelling out the New Year's number. Enjoy the fireworks and happiness with your villagers. A variety of seasonal items will be on sale from January 1 to 15.
Check out ACNH New Year's Items
1. Party Popper & Light Stick
Outside of Resident Services, speak with Isabelle and Tom Nook to receive one Light Stick and five Party Poppers as free gifts. You can utilize them during the nighttime countdown.

2. Hat for the New Year

On New Year's Eve, there are two sorts of special Animal Crossing items available, and each of them costs 500 bells from Tom Nook. There are eight color choices for each sort of holiday hat (red, pink, orange, yellow, green, light blue, blue, and purple), but only one will be sold each year.
3. Seasonal Items
From December 26 to December 31, you can use Animal Crossing bells to buy the following four New Year's items through Nook Shopping.
• New Year's Noodles
• Berliner
• Twelve-Grape Dish
• Sparkling Cider
From January 1 to 15, you may purchase these New Year's items with bells through Nook Shopping. The 2022 Celebratory Arch is a new item in Animal Crossing: New Horizons that was released with the 2.0 update.
• 2022 Celebratory Arch
• Kadomatsu
• Kagamimochi
• New Year's Shimekazari
• Olivier Salad
• Yut Nori
• Zodiac Ox Figurine
At last, Happy new year for every player in Animal Crossing: New Horizons.

Cheap Animal Crossing Items & Bells are provided by MMOBC
Please check our website-Mmobc.com. We will continue to bring the latest information about Animal Crossing New Horizons. Of course, we also support Animal Crossing Items online trading services, such as Animal Crossing Bells and Nook Miles Ticket. If you are interested in this, We promise you will Buy Animal Crossing Items at lower prices than any other trading website.
So hurry up to Buy Animal Crossing Bells and Nook Miles Ticket from us. Right now, Mmobc.com is holding a promotional summer event.