Animal Crossing New Horizons May Day Event Guide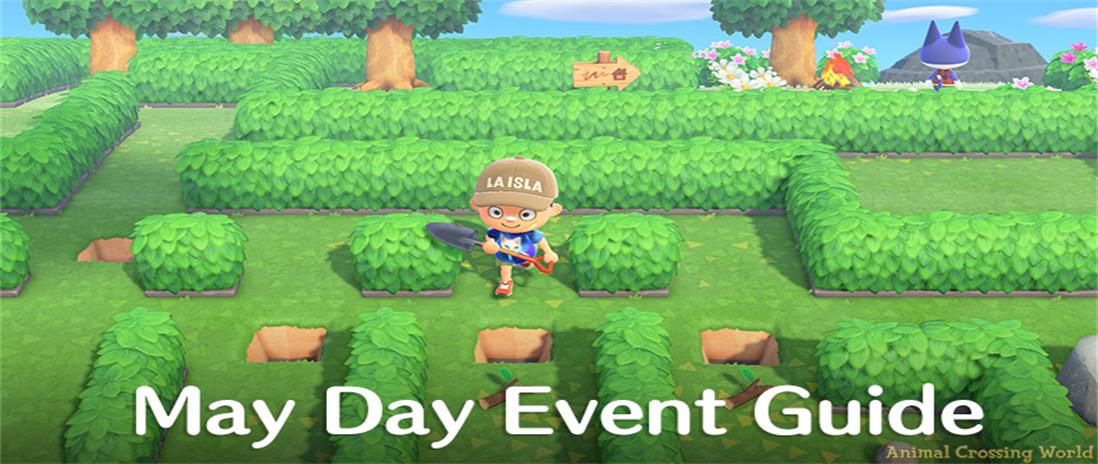 Animal Crossing New Horizons is getting its first major event of May, and it'll most likely coincide with the next 2.0 update! The ACNH May Day 2021 is a special event that takes place during a more specific tour of the islands than normal, during which a special character returns with exclusive rewards and gifts! What new features and updates will the event feature this year? Let's take a look at the 2021 Animal Crossing New Horizons May Day Event.
Animal Crossing New Horizons May Day Event 2021
Time flies, Animal Crossing New Horizons has been out for a year, and the big events from last year are returning to the island, giving players another opportunity to collect these unique Animal Crossing Items. May Day will undoubtedly be commemorated in Animal Crossing New Horizons in the near future.
New Items & Content for the ACNH May Day Event 2021
May Day, as the first major festival in May, will undoubtedly return to ACNH, and the theme of the event will remain unchanged. However, based on Nintendo's update of the events that return to the island, such as Bunny Day, it's clear that this year's May Day will feature some new content or items. As you might know, a new line of Bunny Day-themed items for sale in Nook's Cranny in Bunny Day 2021 means that players can not only collect the old Bunny Day series items with DIY recipes but also purchase new Bunny Day items with Animal Crossing Bells in the shop.
ACNH May Day 2021 Start & End Date
May Day will last from May 1st to May 7th, 2021 (TBA)
ACNH May Day Event Guide
The May Day festival of Animal Crossing: New Horizons is an experience that we will attend from May 1st to May 7th. Although you can complete everything in one day, keep in mind that you have a week to participate in the activities and earn the rewards, particularly the Rover's briefcase!
Get May Day Ticket From Tom Nook
After the event has begun, Isabelle will appear on the home screen and inform us that we can go to Resident Services to redeem a specific ticket, namely the May Day Ticket. In reality, if we talk to Tom Nook, we'll get all the details: in this case, he'll tell us that the event is available from May 1 to 7, and he'll give us the May Day Ticket, which is needed to leave for the special themed mystery island to which Nook Miles Ticket cannot be used.
Meet Rover and explore the May Day Maze
The unique feature of the May Day event's special island is that it will be surrounded by a hedge maze! Our aim is to locate Rover while avoiding all of the intersections and obstacles that we will encounter along the way. Finally, we'll only be able to take home two Animal Crossing items: Rover's briefcase and a starlet Bell voucher, which is the reward for completing the maze.
Get Rover's Briefcase & Bell vouchers as a May Day Reward
Rover's briefcase is a one-time-only item available only during this event, and thus cannot be reordered from the Nook Shop! Furthermore, though obtaining this item is guaranteed, it is critical to ensure that we have at least three fruits when we speak with Rover: only in this way, in fact, can we obtain 9 Bell vouchers, which can be sold to Timmy and Tommy for 3,000 bells each, for a total of 27,000 bells.

★ Cheap Animal Crossing Items &Bells are provided by Mmobc.com
Please check our website-Mmobc.com. We will continue to bring the latest information about Animal Crossing New Horizons. Of course, we also support Animal Crossing Items online trading services, such as Animal Crossing Bells and Nook Miles Ticket. If you are interested in this, We promise you will Buy Animal Crossing Items at lower prices than any other trading website.
So hurry up to Buy Nook Miles Ticket and Animal Crossing Bells from us. Right now, Mombc.com is holding a promotional event.