The exciting ACNH Firework Show 2021 is about to start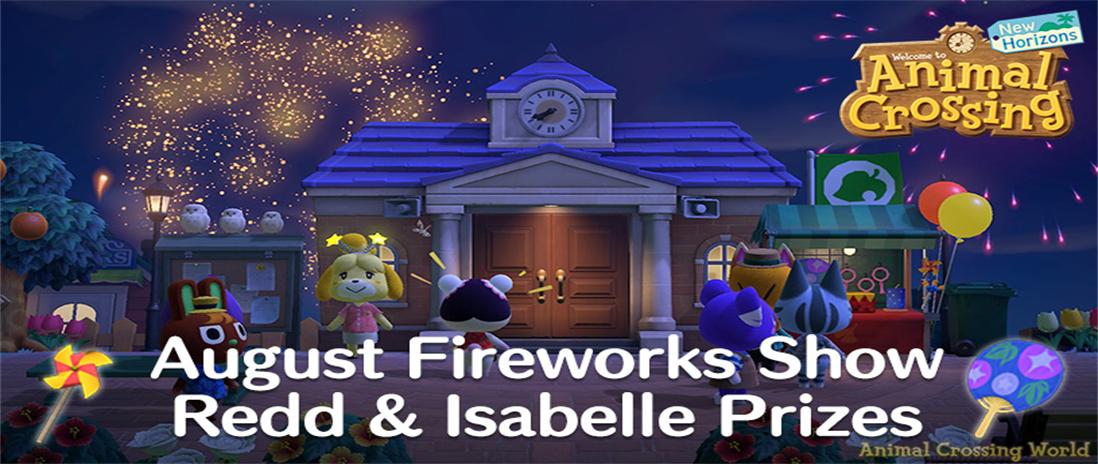 Animal Crossing New Horizons hasn't received a new update in a long time, and the next free ACNH update is slated to arrive in late July. After the Wedding Season concludes in June, the Fireworks Show will be the next great event to return to New Horizons. We'll go over all you need to know about ACNH Fireworks 2021 in this guide, including the showtime, schedule, items, prizes, changes, and more.
ACNH Fireworks Show Event 2021
Nintendo will not announce a current-year event until we get close to the event date. While many events have returned to New Horizons, other festivals and festivities have been canceled in the game. The ACNH Fireworks Show 2021 will most likely be announced during the ACNH Summer update, which will take place between July 16 and July 31.
You can meet Jolly Redd at the ACNH Fireworks event, and he organizes a raffle where you can win various prizes, but you'll need enough bells to receive those festive ACNH items at Redd's raffle. In addition to the prizes offered by Redd, you can meet Isabelle outside of Resident Services and speak with her; you'll receive one free special Bopper item from her, and you can submit a creative design to Isabelle, which will be transformed into sky fireworks.
Time & Schedule
According to last year's Fireworks schedule, which was planned for every Sunday in August, the first ACNH Fireworks performance in 2021 will most likely be on August 1. The Fireworks show is beautiful in the night sky, and players were able to build bespoke Fireworks patterns last year, which added to the excitement of the event. This year's event is not to be missed.
We can see Fireworks Show five times in ACNH throughout August. Below is the detailed time
August 1, 2021
August 8, 2021
August 15, 2021
August 22, 2021
August 29, 2021.
ACNH Fireworks Show Items & Prizes
In addition to the spectacular fireworks display, the event offers the opportunity to win prizes from Redd and Isabelle.
How do I get Redd's Fireworks prizes? Spend 500 ACNH bells on a raffle ticket, and Redd will let you pick a number from his raffle. Whichever number you choose, you will be guaranteed a gift. You will receive one prize at random from a pool of 12 prizes based on your lottery ticket number. Raffle tickets can be purchased an unlimited number of times.
ACNH Fireworks Prizes
• Tweeter
• Blue Balloon
• Red Balloon
• Yellow Balloon
• Green Balloon
• Pink Balloon
• Red Sparkler
• Blue Sparkler
• Fountain Firework
• Bubble Blower
• Uchiwa Fan
• Pinwheel
• Some Fireworks event items can you get
• Casual Kimono (Green, Dark Blue, Aqua & Mustard)
• Kabuki-Actor Yukata (Gray, Dark Blue & Fuchsia)
• Morning-Glory Yukata (White, Aqua, Pale Green & Dark Blue)
• Zori (Aqua, White, Black, Pink, Light Pink, Red, Gold & Green)
• Bulb Bopper
• Flower Bopper
• Heart Bopper
• Star Bopper
Is it possible to see new items at the 2021 Fireworks Show? This year, Nintendo has improved or added new content to all of the recurring events, including Bunny Day, May Day, International Museum Day, and Wedding Season. As a result, we should expect some changes to the Fireworks Show as well.

★ Cheap Animal Crossing Items &Bells are provided by Mmobc.com
Please check our website-Mmobc.com.We will continue to bring the latest information about Animal Crossing New Horizons. Of course, we also support Animal Crossing Items online trading services, such as Animal Crossing Bells and Nook Miles Ticket. If you are interested in this, We promise you will Buy Animal Crossing Items at lower prices than any other trading website.
So hurry up to buy ACNH bells and Nook Miles Ticket from us. Right now, Mombc.com is holding a promotional event.